It's been 10 years since Lance Franklin reached the holy grail of milestones for AFL forwards.
In 2008 Lance Franklin became one of just three players this century to have reached the herculean achievement of a century of goals in a year of footy. Franklin, Fraser Gehrig and Matthew Lloyd are the only three forwards who have achieved this pinnacle in the 21st Century, a milestone that continues to elude forwards in an age of congestion and forward presses.
10 seasons later, and the man they call Buddy has the chance to join an even more prestigious club as he nears the end of his brilliant AFL career- the 1000 goals club, with just 5 members to its name, including league legends such as Tony Lockett, Jason Dunstall and Gordon Coventry amongst others.
Franklin, who has scored the most goals out of any current player in the competition at 868, is about to commence the fifth year of a nine year contract that he signed with the Sydney Swans in 2013, and looks set to reach the 1000 mark if he continues his Coleman Medal winning form of 2017. Franklin slotted through 67 majors in 2017, a seasonal tally that would most certainly help him easily surpass the 1000 mark should he play out the rest of his contract.
However, Franklin is now 31, and it's unlikely that he will be able to continue at the elite level he maintains now for five more seasons in the AFL despite his clear brilliance.
So, can Franklin reach the big 1000?
Franklin is hard man to speculate about. He's arguably one of the greatest athletes that have ever stepped foot on an Australian Football field, therefore it is difficult to comprehend how his last few seasons will pan out as he nears the end of his career, or for how many seasons he will continue for.
It all rests on how many games he can get out of his body from here on in. He'll find it tough if he can only manage two more seasons, but he should get to the milestone with ease if his body can survive until 2020.
In his past two seasons Franklin has managed 151 goals, which would push him past the 1000 mark in 2019 if he was to kick a similar amount in his next two seasons. However, Franklin will be 33 in 2019- his body will not be up to high standards it was during stages in his career like it was during his fabled 2008 season for Hawthorn, and he most likely will be unable to execute the extreme acts of brilliance that he has entertained us with during his career. Essendon Full Forward Matthew Lloyd, who finished very close to the 1000 mark with 926 career goals, kicked 97 in his last two seasons of AFL Football in 2007 and 2008, and Richmond forward Matthew Richardson, who finished on 800 career goals, scored a similar amount in his final two full seasons of footy- 101 goals.
Thus, it's a fair assumption to make that in two seasons Buddy, (who, keeping in mind, has an arguably more athletic body than that of Richardson and Lloyd and who's body could last longer given the vast amounts of strength and conditioning undergone by players these days), may possibly finish just behind the 1000 mark if he follows a similar vein to these two and can only play two more full seasons of footy like these greats who have tried and failed to reach the big 1000.
However, if he can last for 3 or even all the way for five more seasons which will see him begin the 2023 season aged 36, then it is more than likely he'll reach this prestigious footballing milestone comfortably.
Another point of comparison that may shed light on how long Franklin has left in his career is by looking at other players who debuted in the same season as Franklin did- 2005. Travis Cloke and Jarrad Roughead are two players who debuted in the same season as Franklin and play similar roles for their clubs. Cloke retired last season having played 260 matches, and like Franklin has had time out of the game to deal with mental health issues, while Roughead has played 253 games despite a cancer scare in 2016, totals which are similar to that of Franklin who sits at 271 games. Roughead is most likely nearing the end of his career, which also conveys that Franklin may not have much time left to reach 1000 and beyond.
If Franklin is to retain his current average (As of the end of 2017) of 3.17 goals per game then he will need every bit over two seasons to achieve the 1000, considering he is currently 29 games away from 300 games and at his current rate will require at least 315 matches to get there, also taking into consideration that his average will decrease as he reaches the twilight of his career.
In the likely event Franklin does not make it all the way into his mid 30s, how will he fulfill the final seasons of his contract? It's a reasonable assumption to make that Franklin will go into some sort of coaching role like his former Hawthorn pals of Luke Hodge and Sam Mitchell to finish off his mammoth deal with the Swans, possibly working with the senior team or the Swans Academy that has produced future stars like Issac Heeney for the club.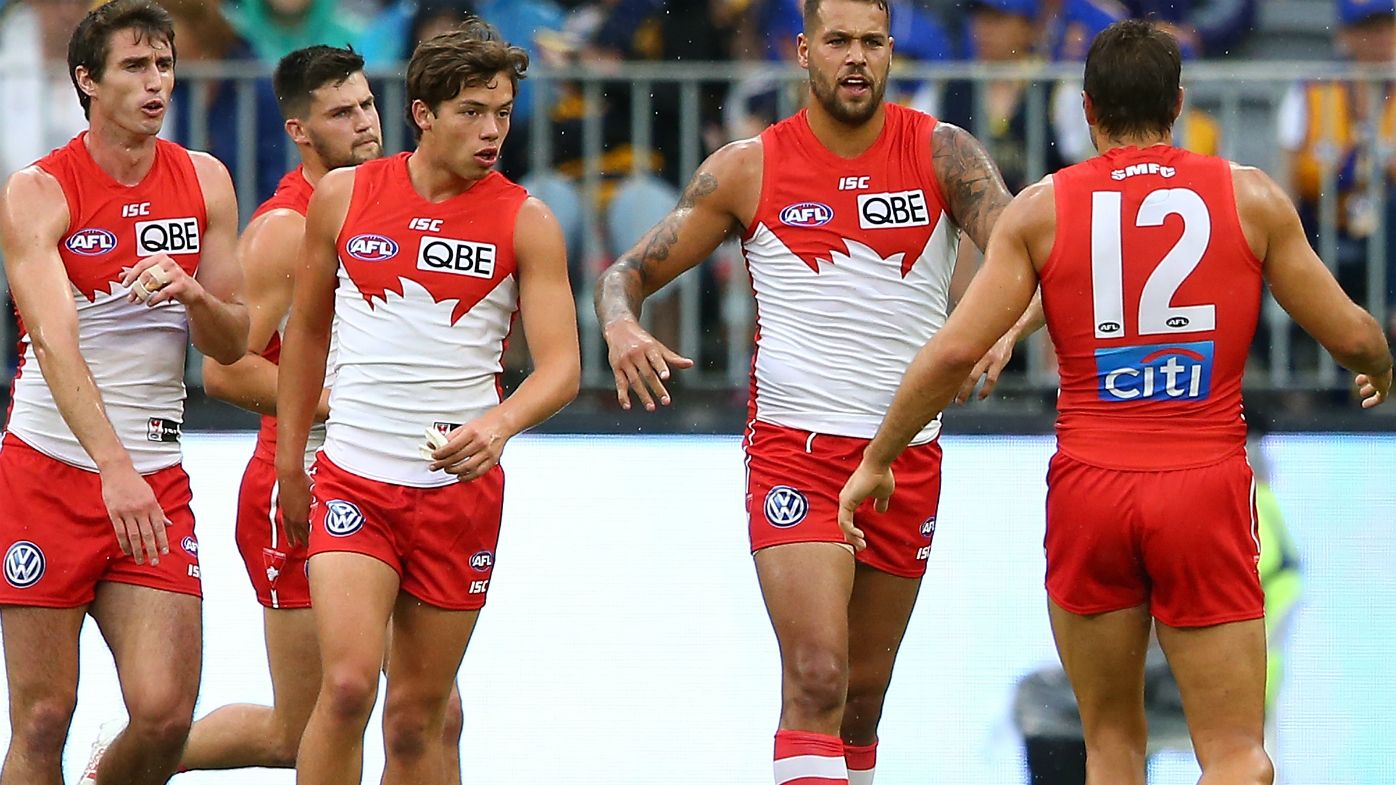 If Franklin was to hit the 1000 it would also be interesting to see if the AFL allows spectators to run on the ground,  a decades old tradition that was followed in 2008 when Franklin kicked his 100th for the season, and also when Tony Lockett broke the league goal kicking record in 1999. It's likely that even if the AFL does gives the thumbs down to this practice then it will probably still occur regardless, especially considering it quite possibly could be the last time anyone reaches 1000, coupled with the fact celebrating 100 goal seasons will be few and far between in the future as the game continues to evolve. Invading the field and celebrating with Franklin would truly be a lucrative opportunity and a great memory for those in attendance and involved.
So what's the final evaluation for Buddy? Can he make it to the 1000 mark? The facts at hand and the statistics seem to say it will be tough for the big lad from Perth, but the AFL has never seen a player quite so freakish in ability so it's likely he will overcome all odds and set new standards to be observed into the future. Franklin entertains and amazes many with his sublime skill and ability, which suggests that despite his age he still has many records left to be smashed.